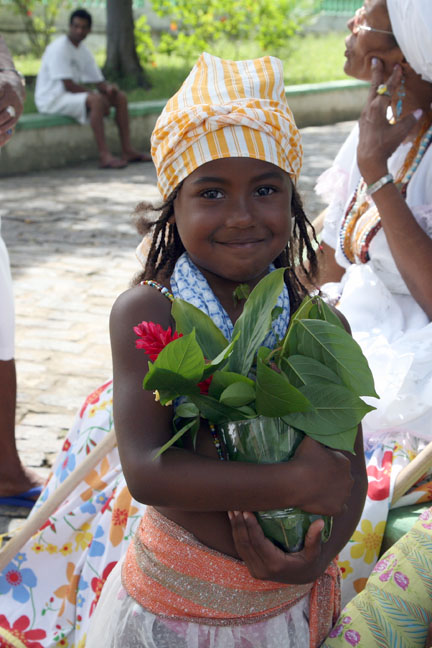 COLETTE FU (USA) captured this moment in Bahia. © COLETTE FU, 2007
RELAUNCH OF THE WEBSITE
We invite you to explore our restructured website, which we have expanded and updated: www.sacatar.org. The most significant changes are 'behind the curtain;' we can now make many alterations to the website without depending on our webmaster. However, for you, the public, there are two significant changes.
The ALUMNI page is now more interactive. You can search for our former Fellows by country of birth, artistic discipline and year of residency. You can also search for Fellows by the partnership programs and exchanges that helped bring them to Bahia. The Fellows' pages now hold more information and, responding to your requests, we are posting more about what artists produce while in residence.

We have added a page to acknowledge all of our many Partners, which can include you. There is a place on the PARTNERSHIPS page where you can donate, via PayPal, to the Sacatar Foundation, a US-based 501c3 non-profit corporation. In the course of the last eight years, the dollar has lost 60% of its value against the Brazilian real. This translates into a two and a half increase in our local costs. You can imagine the havoc this inflicts on a budget! Nonetheless, we are working hard to find ways to build additional studio and residential space so that we can increase our capacity from five to nine artists at a time. Your donations are greatly appreciated.

Many of you former Fellows know the precarious conditions in which some of our local partners operate. These organizations operate on a budget comprised almost entirely of the founders' selfless passion and the love of what they do. A few years ago, former Fellows JANE COFFEY and KRISTIN CAPP organized a fundraiser in New York City for Prole de Taparica, the local cultural center founded by Joelmo Teixeira and currently housed in a building without doors or windows. Joelmo provides after-school activities to as many as 150 children every day, many of them with disabilities. Another former Fellow has just made a very generous anonymous donation of one thousand dollars to Capoeira União, where Omara Conceição provides art classes and capoeira lessons to dozens of local children at extremely low cost. Most of Omara's kids are on 'scholarships' that Omara provides, meaning they pay nothing. In both cases, the Sacatar Foundation has been happy to act as a conduit for these donations, providing the tax relief that Sacatar as a United States 501c3 corporation can provide, while delivering the money to these very worthy local institutions.
So please take a look around the revamped site, and give us your feedback and impressions at info@sacatar.org . We want www.sacatar.org to be a useful tool for all of you.
---
Yumi Kori at MAM-Ba´s ´Another sky / red´ installation Installation ´Imanências do Mar´ at MAM-Ba by Giovana
© Luís Oliveira, 2008

Dantas
© Mitch Loch, 2008
SACATAR AT THE MUSEU DA ARTE MODERNA DA BAHIA / MAM
Last year a new director, Solange Farkas, took over the helm of the Museu da Arte Moderna da Bahia (www.mam.ba.gov.br ). MAM is a beautiful facility in Salvador, pushing out into the bay, housed in an 18c warehouse renovated in the 1960s by the visionary architect Lina Bo Bardi. (Forty years ago Ms. Bo Bardi included, in the original renovation, housing for an artist in residence, which was never occupied.) In recognition of the critical role that arts residency programs now play in the production of significant new work, Solange made a point early in her tenure to cross the bay to the island of Itaparica to visit the Instituto Sacatar. She subsequently offered to mount an exhibition on an entire floor of the museum, featuring the arts residency program at Sacatar through the very different works of two Sacatar Fellows: GIOVANA DANTAS of Salvador, Bahia, Brazil, and YUMI KORI of Tokyo, Japan. The exhibitions were open to the public from March 28 to May 4, 2008.
---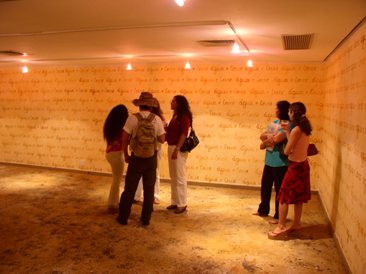 Mie Preckler´s Installation Agua e Terra at ACBEU
© Luís Oliveira, 2008
SACATAR AT THE ASSOCIAÇÃO CULTURAL BRASIL – ESTADOS UNIDOS / ACBEU
In past years, ACBEU (the U.S – Brazil Cultural Association in Salvador) has invited Sacatar to exhibit work by our current Fellows. The gallery director, Eneida Sanches, had scheduled a Sacatar show for September of this year, but a sudden cancellation of an upcoming exhibition caused her to ask if we could mount a show earlier in the year. Incoming Sacatar Fellow MIE PRECKLER accepted the challenge. Her installation opened on April 4 and ran through April 29.
---
SACATAR AT PRAIRIE CENTER FOR THE ARTS
The Prairie Center for the Arts is a new residency program in Peoria, Illinois, USA. In conjunction with the Prairie Center, the Sacatar Foundation offered a residency at the Peoria arts center, competitively offered to the 130 former Fellows of Sacatar. Prairie Center chose PETER MUELLER of Germany, who will be in residence in Peoria for three weeks, starting in May. Peter will return to Germany in time to witness the birth of his first child.
---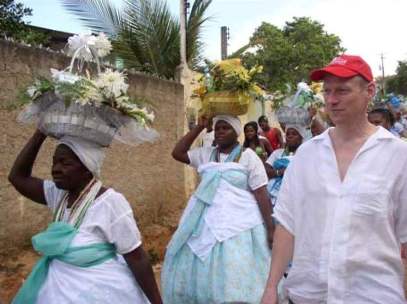 David Macy at Yemanjá Festival Feb 2008 © Mitch Loch, 2008
NOT IN PETERBOROUGH ANY MORE
Sacatar hosts no artists during Carnaval in Bahia. It is simply too disruptive and besides, there is no staff. Still, we do host guests on occasion and this year we hosted David Macy, the Residency Director at the MacDowell Colony in Peterborough, New Hampshire, USA. In addition to dancing in the streets of Salvador with two million of our best friends, we were perhaps the only non-locals at the Festa de Yemanjá on February 1---shown in the photo above---when the eguns, the spirits of the dead, offer presents to Yemanjá, the goddess of the sea.
---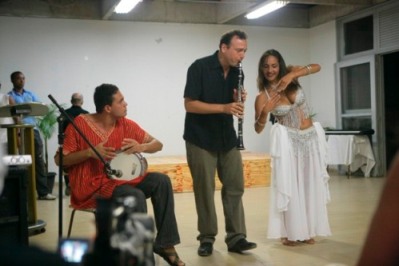 Derek Bermel at the Library presentation with the belly dancer Malaica, January 25th, 2008
© Sang-Taek Oh, 2008
SACATAR AT THE ITAPARICA LIBRARY
Anyone who has been to an opening at the Itaparica library knows that at this most democratic of venues, anything goes. The outgoing Fellows in January accepted the last-minute invitation to exhibit at the library. Korean photographer SANG-TAEK OH rushed to Salvador on the day of the exhibition to print photos he had produced while in Bahia, many of them featuring the other Fellows in residence: DEREK BERMEL, GIOVANA DANTAS, JON TAYLOR, DAWN STETZEL and SOOK JIN JO. Jon and Dawn staged an interactive installation in which Dawn collected words from the public, which Jon then painted on to a scaffolding of signs the two had previously built of found materials. DEREK BERMEL gave a delightful presentation in his recently acquired Portuguese. He played and sang a song he had written about the island of Itaparica and, consummate musician that he is, wailed in a jam session with the modest, timid Itaparica marching band in its first ever concert before a seated audience. Remember that anything goes? Another of the evening´s performers, a belly-dancer, invited Derek to improvise with her and her talented tabla player, for a memorable finale that left the local guys whooping.
---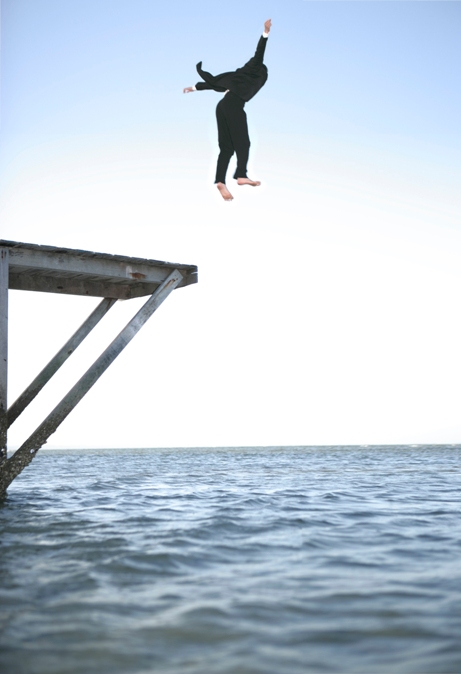 High Jumper © Sang-Taek Oh, 2008
EXCHANGE WITH THE NATIONAL ART STUDIO, KOREA
In our first exchange with The National Art Studio / Korea, the Instituto Sacatar hosted Korean photographer SANG-TAEK OH. The Rio-based environmental sculptor TOMÁS RIBAS took over Sang-taek´s studio outside of Seoul for the two-month long exchange, undertaken in December 2007 and January 2008.
---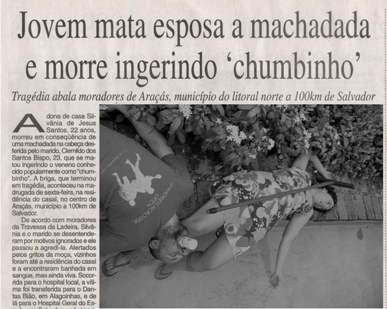 Andrew and Rebecca recreate a headline. © Mitch Loch, 2008
BRITISH COUNCIL AT SACATAR
In another first, the British Council brought the artists ANDREW MOTTERSHEAD and REBECCA FRENCH to Sacatar for a special three-week residency, during which they did an amazing amount of work on their ongoing project SHOPS, which deals with how people acquire the goods of their daily lives. After Sacatar, they moved their project to São Paulo for an additional six weeks. You can track their progress with the SHOPS project at http://shopsproject.blogspot.com/ . If you scroll through the more recent entries from São Paulo, you will find some of the documentation of their experiences in Bahia, which are VERY different from São Paulo! Andrew and Rebecca are currently in China, exploring more SHOPS. You can find out more about them at: www.frenchmottershead.com
---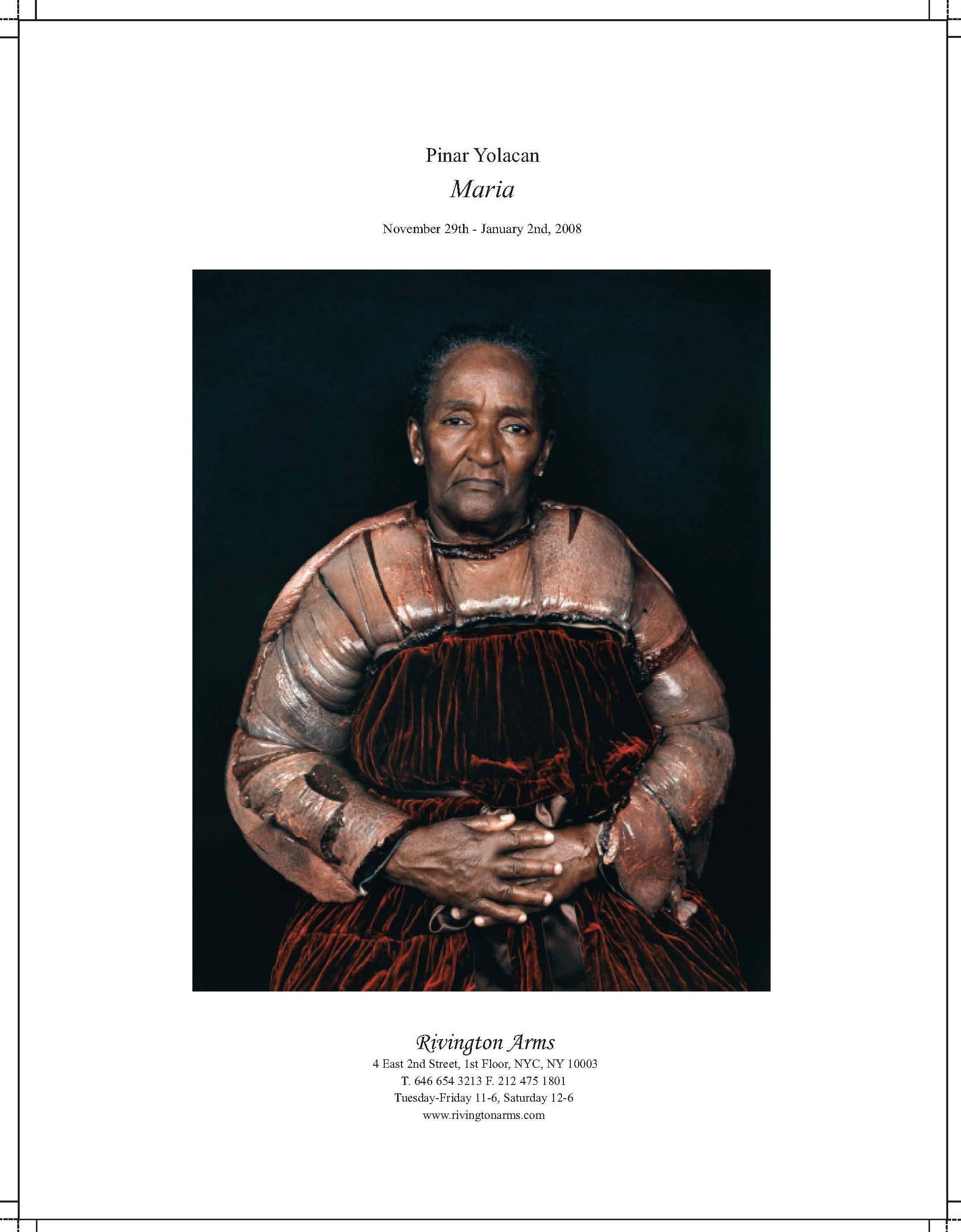 ´Maria´ invitation for Pinar Yolacan exhibition © Pinar Yolacan, 2007

SACATAR IN NEW YORK
On November 29, 2007, there was the opening of an exhibition at the Rivington Arms Gallery in New York, featuring the body of work produced by Turkish photographer PINAR YOLACAN during her residency at Sacatar and in the subsequent months when she returned to Itaparica to complete this remarkable series. To celebrate the event, there was a reunion at a nearby Brazilian restaurant of the past and future Sacatar Fellows, drawing a big crowd, twenty-five people, including almost every former Fellow based in New York, several future Fellows, and founders Mitch Loch and Taylor Van Horne. Pinar´s show ran from November 29 through January 2, 2008: www.rivingtonarms.com
---
SACATAR FAZ AMIGOS / THE FRIENDS OF SACATAR PROGRAM
On October 19, we launched the SACATAR FAZ AMIGOS program, in an effort to provide the local community more structured opportunities to interact with the Sacatar Fellows. We held the event in Salvador in the beautiful colonial mansion known as the Casa de Angola. The Sacatar Fellows at that time---ERICA HARRIS and HENRIETTA MANTOOTH of the USA, SUSANA MOREIRA MARQUES of Portugal, HUNG-CHIH PENG of Taiwan and WALMOR CORREA of Brazil---shared their work informally with our guests. All present were encouraged to fill out forms to become Friends of Sacatar, indicating the type of artist they would enjoy meeting and the type of activities they would be willing to share with them (going to a concert or play, sight-seeing, helping with an installation, etc.) In December we held a similar event at a Korean restaurant run by the only Korean on the island of Itaparica, in acknowledgment of the two Korean Fellows then in residence, SOOK JIN JO and SANG-TAEK OH. The SACATAR FAZ AMIGOS program continues to grow and has subsequently successfully introduced many local people to our artists in residence. If you live in Salvador and wish to register as a Friend of Sacatar, give us a call at info@sacatar.org for more details.
---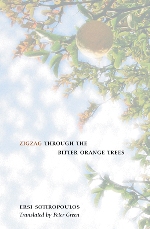 Book jacket for ´Zig-Zag through the Bitter Orange Trees´
© Ersi Sotiropolous, 1999
SACATAR FELLOW ERSI SOTIROPOLOUS CENSORED IN GREECE
Athens, 17 April 2008

A Greek court has recently decided to force the withdrawal from the National School Library system of the National Award novel, Zig-Zag through the Bitter Orange Trees by ERSI SOTIROPOLOUS, as a result of a lawsuit initiated by the extreme-right politician K. Plevris against the Greek Ministry of Education. The court's decision, based on the judge's opinion that the book "contains passages clearly pornographic and vulgar," is a monument of extreme conservatism and is viewed by Greek intellectuals as an unprecedented attack on reason, freedom of speech and the independence of artistic creation and education.
---
EXECUTIVE DIRECTOR SEARCH
We have suspended the search for an Executive Director, due to the continued precipitous decline of the US dollar against the Brazilian real.
---
MEET JACÓ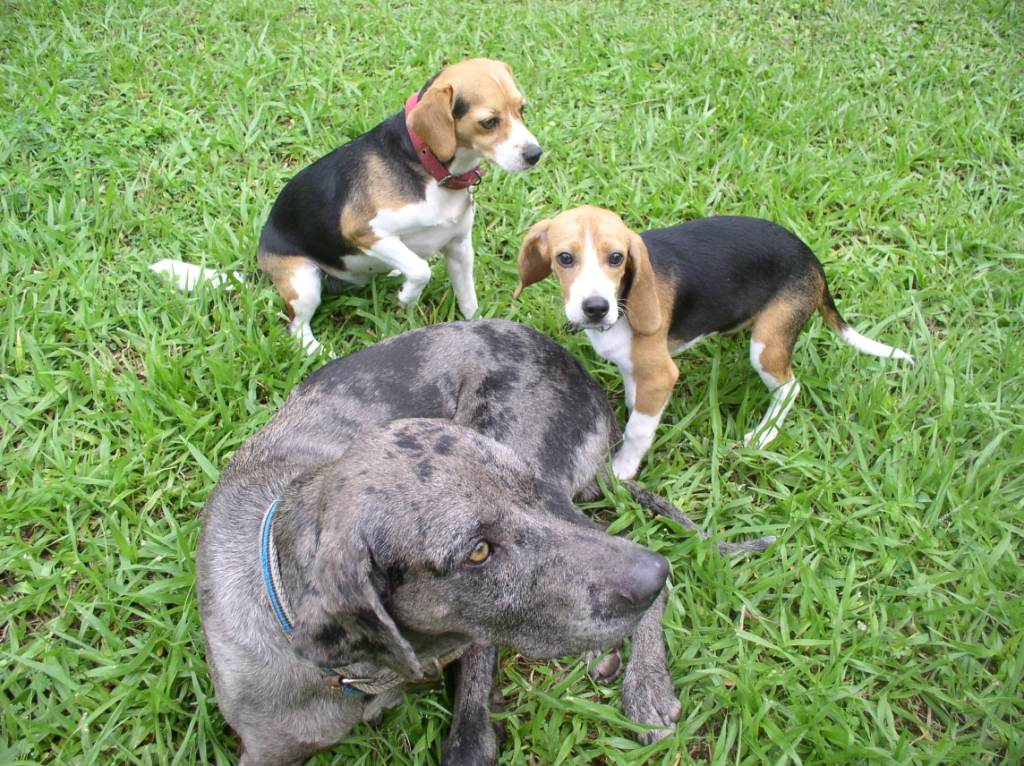 © Mitch Loch, 2008
My name is Jacó and none of you have met me before, because I am just three months old---100 days, actually---and I arrived at Sacatar on May 10. Here I am with my new friends, whom many of you will recognize: Diana, on the left, and Xid, the big brown beast below. I'm the handsome one in the middle.
I was born on a big farm in the Jequeriçá Valley, about an hour and a half from Itaparica. I never really saw the farm, just the kennel there. Then I came to Salvador where I met two very snuggly humans, Mitch and Taylor, who brought me here. They have arranged for me to be the father of Diana's puppies when I grow up.
I was a bit afraid at first, but I like it here a lot.
---
NEWS OF FELLOWS:
With our new website, we plan to edit the newsletter Jornal Sacatar with greater frequency. We thank all the former Fellows who keep us updated with their activities and regret not being able to print all the news that we have received, but here is a partial list of what the former Sacatar Fellows are up to:

ANDREA PINTO-CORREIA (Portugal) - In a collaboration that combines music and film, Avian Music Contemporary Ensemble will perform pieces by Andrea and others, in four performances in four American cities. For more information: http://www.avianmusic.com/. Her composition, 'Miniaturas,' was the winner of the 2008 Contemporary Ensemble Composition Competition.
CAROL BARTON (USA) - Volume Two of her book The Pocket Paper Engineer will be available in June 2008. Learn more at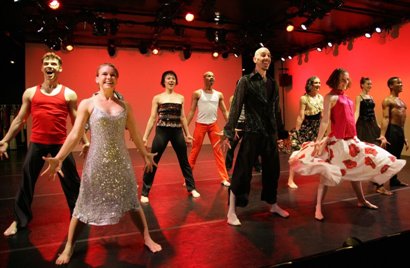 ´Encore´ © Daniel Gwirtzman, 2008
DANIEL GWIRTZMAN (USA) – The Daniel Gwirtzman Dance Company performed its acclaimed production 'Encore' at public schools across the city of New York all during the month of April. In January, Daniel participated in an international choreographers' conference at the Rural Retreat in Hertfordshire, England, with 26 other choreographers from 15 countries. Currently, he is developing two new pieces during a seven-week residency at the Virginia Commonwealth University.
DEREK BERMEL (USA) – We congratulate Derek on his appointment as composer in residence with the Los Angeles Chamber Orchestra from 2009-2012.
DIANA BLOK (Netherlands) – exhibits a selection of her photographs in 'Secrets for the Archive' at the Galerie Baudelaire, in Antwerp, Belgium, from May 18 to June 28.
GERALD CYRUS (USA) – An exhibition of his photographs: 'Stormy Monday – Harlem's 1990'2 Jazz Scene' can be seen at the Leica Gallery from May 2 to June 21. The publication Stormy Monday, New York's Uptown Jazz Scene has been released, with photos by Gerald and text by Robert G. O'Meally.
GONZALO VÉLEZ (Mexico) – His translation of the book Los Exaltados, written by the Austrian writer Robert Musil (1880-1942), has been published by Sexto Piso. Gonzalo translated the book from the original German into Spanish.
JANE INGRAM ALLEN (USA) – shows her work in the exhibition 'Still Waters' at the Tenri Cultural Institute in New York from May 7-31, 2008.
KARL CIESLUK (Canada) - completed in 2007 a significant public arts project:
http://www.artsinkelowna.com/publicArtGallery.php?artID=43
KOSTANA BANOVIC (Yugoslavia > Netherlands) – screened two films she made while in Brazil at the First Capoeira Film Festival at the Latin America Center in Amsterdam in January, 2008. The two short films were Exu-An Offering and Oxóssi – A Celebration.
KRISTIN CAPP (USA) – has released with Myna Capp her most recent book, Keeping the Embers Alive: Musicians of Zimbabwe, with interviews by Myrna and photography by Kristin. More information is available at the website of the editor, Africa World Press / Red Sea Press: http://www.africaworldpressbooks.com
LISA BEATMAN (USA) - announces the release of her new book, Manufacturing America (Ibbetson Street Press, $14.95). The lives of today's immigrant factory workers are the guts and sinew of these poems. It's available from www.lulu.com, ibbetsonpress.com, and www.amazon.com.
LUCIO GREGORETTI (Italy) – On April 24, there was a world-premiere of a new work by Lucio at the very prestigious Accademia di Santa Cecilia in Rome. Lúcio is now an artist in residence in Switzerland.
MARCOS ZACARIADES (Brazil) – On April 19, Marcos reopened his gallery, Arte & Memória, in the village of Igatu, Bahia, with a show by the Bahian artist Mili Genestreti. Igatu is the village of 400 people high in the mountains of the Chapada Diamantina in central Bahia where Marcos continues his extraordinary work with the local populace.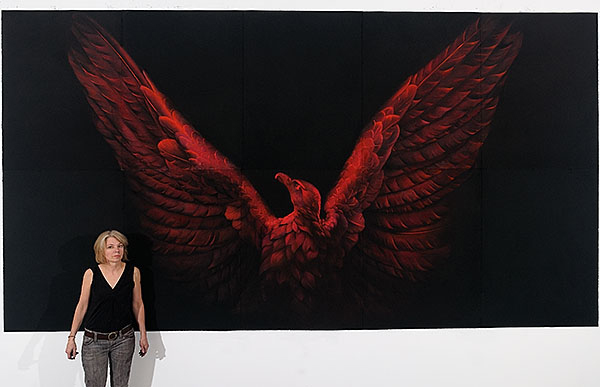 Apotheosis (Scale Detail) 2007 100 x 195 in / 254 x 495.3 cm (after Bertel Thorvaldsen's, Apotheosis of Napolean the First) © Melanie Baker, 2007
MYRONN HARDY (USA) – announces the publication of his most recent book of poetry The Headless Saints. He also has a new website: www.myronnhardy.com
PADMA VISWANANATHAN (Canada > USA) – has published her book The Toss of a Lemon, written in part during her residency at Sacatar. She will be doing book-signings across Canada from April 9 to June 14. The book, already released in Canada, will be coming out in the USA in September. For more about the book, please go to:
http://www.randomhouse.ca/catalog/display.pperl?isbn=9780307356321
Also, we wish to congratulate Padma on the birth of her baby girl, Mira Francesca Brock, on September 26, 2007.
PATRICIA CHAO (USA) – was in São Paulo earlier this year to start research for her next novel, which will be about the Japanese immigration to Brazil. She told us that former Sacatar residency manager "Tereza and I were all set to march with the samba school Tom Maior and then chickened out at the last minute. Sixteen pounds of fantasia costume and high heeled boots were too daunting. So we watched it on TV and analyzed instead."
PIPLU (Imran Hossain) (Bangladesh) –celebrates his marriage to Mana (Safiha Hussain) on May 10 in Dhaka, Bangladesh. Our congratulations to the couple!
SANG-TAEK OH (Korea) – exhibits his photography in the Gallery Lee Ka-Sing in Toronto, Canada from April 15 to May 11.
SHANE BOOK (Peru > Canada > USA) - The Writing Workshop to Ghana, West Africa, is set to run from July 27-August 7, 2008. It will offer three classes: poetry, fiction and nonfiction, taught by Chris Abani, Camille Dungy and Shane. If you know some folks who would be interested in going on a travel-education adventure such as this one, it's shaping up to be an incredible trip:

Sidiki Conde Award and Performance © Sidiki Conde, 2007
SIDIKI CONDE (Guinea > USA) – shown above receiving the National Heritage Fellowship in Washington, DC, and performing during the festivities. National Heritage Fellowships begin with nominations from ordinary citizens who put forward local folk and traditional artists that they feel are deserving of national recognition and who embody artistic excellence, authenticity and significance within their traditions. Each year, a select group of these artists come to Washington, D.C. to receive their awards in a public ceremony and perform in a concert celebrating ´our nation of nations´ during late September. Sidiki was one of 12 citizens to receive this national honor in 2007.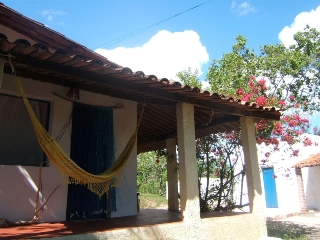 Solange´s home on Itaparica © Solange Lima, 2008
SOLANGE LIMA (Brazil > France) – purchased a property on the island of Itaparica, where she recently turned a garage into a cozy little home. She plans to build an adjacent multidisciplinary studio where she will spend several months a year when not engaged in her circus / theatrical work in France.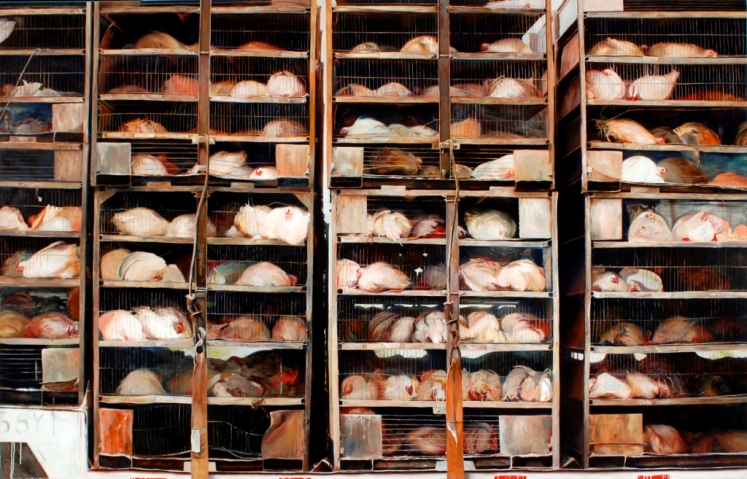 ´Chickentruck´ © Sunny Taylor, 2008
SUNNY TAYLOR (USA) - who was our youngest Fellow ever, has just finished her masters at the University of California, Berkeley. Her painting, entitled 'Chickentruck,' measures an astonishing 2.56m x 3.36m, and will be on display at the Berkeley Art Museum and Pacific Film Archive from May 16 to June 8, 2008.
VIGA GORDILHO (Brazil) – launched her second children's book Where Do the Houses Dress in Sky-Blue? on May 8, 2008, at the Museu de Arte Sacra in Salvador, Bahia, Brazil. Her traveling collective exhibition, 'Afetos Roubados no Tempo,' with its 760 small sculptural objects created by artists from all over the world, was a direct result of her residency at Sacatar and is currently on display in João Pessoa, Brazil. The exhibition will travel to Valença, Spain at the end of the year and to its final destination in South Africa in the beginning of 2009.
WALMOR CORRÊA (Brazil) – An artist who has built his career as a painter won the prize for sculpture at the 2nd Açorianos de Artes Visuais, on May 8 in the Renascença Theater in Porto Alegre, Brazil. His series of sculptures, called 'Memento Mori,' also earned Walmor the title of Artist of the Year and the only monetary prize of the evening. Walmor dedicated his prize to the biologists who do the most difficult work in his assemblages, the cleaning of the skeletons of rats and birds. The artist recombines the skeletons, creating scientifically designated imaginary species.
WILSON SUKORSKI (Brazil) – On April 26, at two in the morning, the streets and stairs in front of the Municipal Theater of São Paulo, Brazil, became the stage for Eu, Machado de Assis – 100 Anos, freely adapted from the literary works of Brazilian author Machado de Assis on the 100th anniversary of his death. The spectacle, which ran for four hours, occupied bars, streets, plazas and avenues in the city center. Direction: Lenerson Polonin; Sound design: Wilson Sukorski; Costumes: Carina Casuscelli. The performance was recorded in video by Cristian Cancino.
YUMI KORI (Japan) – Just days after her residency at Sacatar, Yumi inaugurated an installation at the world-renowned Mattress Factory in Pittsburgh, Pennsylvania, USA. She is one of nine international artists whose work can be seen at the museum from April 26, 2008, through January 11, 2009.
---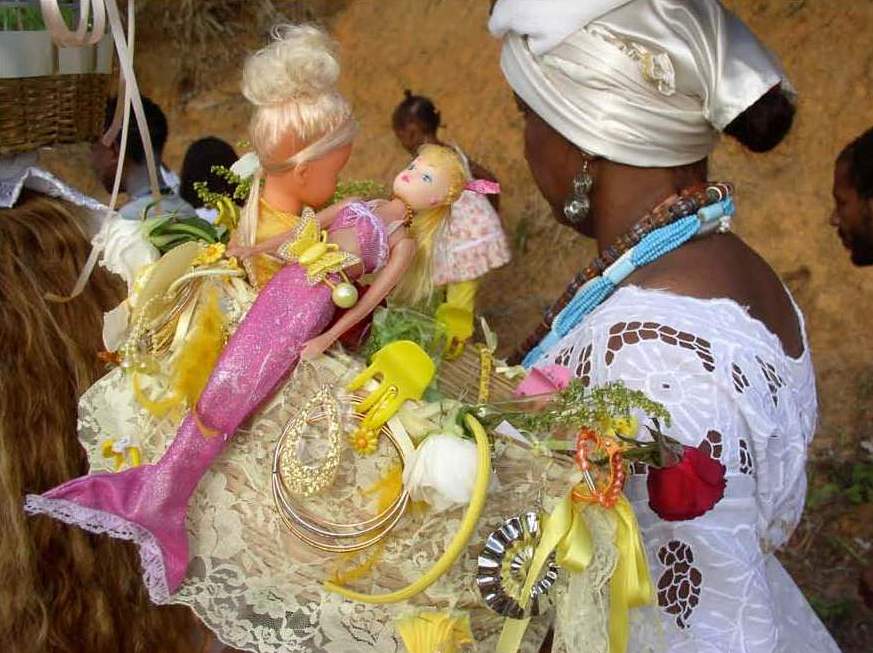 Yemanjá Festival Feb 2008
© Mitch Loch, 2008
More soon,
The Sacatar team
---