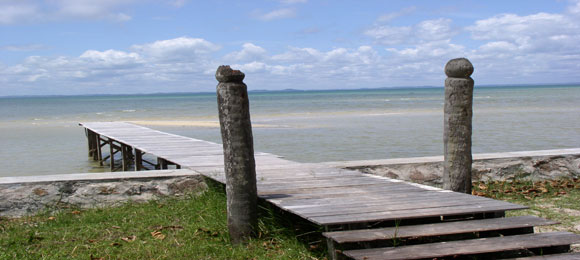 The pier at the Instituto Sacatar, © 2007, Taylor Van Horne
YEAR OF FRANCE IN BRAZIL
A SPECIAL PROJECT AT THE INSTITUTO SACATAR
On June 5 in Itaparica, Brazil, Sacatar convened a committee to select five French artists for a Special Project associated with the Year of France in Brazil –- Plusieurs Horizons pour une Même Bahia, or in English, Many Destinations, One Bahia. The five artists arrived at Sacatar on July 25 and will stay in Bahia until October 3. They will have one week of orientation after which each artist will spend three weeks at a different city in the interior of Bahia. These cities were selected for their cultural and geographic diversity. The Brazilian state of Bahia is, after all, as large and diverse as the nation of France. It's just a little hotter in Bahia…
At the end of August, the artists will return to Sacatar for one month to prepare an exhibition, inspired by their experiences in Bahia. The exhibition will open on September 28 at two venues in Salvador, the Alliance Française and the Museu de Arte Moderna da Bahia. After that, the exhibitions will travel to the five cities where the French artists were in residence: Feira de Santana, Juazeiro, Vitória da Conquista, São Félix and Andaraí.
This complex project is generously funded by the Fundo de Cultura do Estado da Bahia, the Sacatar Foundation and CulturesFrance.
Additional partners include:
• The cultural centers of the Fundação Cultural do Estado da Bahia : Centro Cultural Amélio Amorim, in Feira de Santana; Centro de Cultura Camilo de Jesus Lima, in Vitória da Conquista; Centro de Cultura João Gilberto, in Juazeiro;
• the École Supérieure des Beaux-arts de La Réunion;
• Centro Cultural de Igatu;
• Galeria Arte & Memória in Igatu;
• Ponto de Cultura Abassá de Oxalá and the Municipality of Andaraí;
• Centro Cultural Dannemann in São Félix;
• Universidade Federal do Recôncavo da Bahia (UFRB) in Cachoeira;
• the artists' collaborative GEMA, active in Feira de Santana;
• CUCA – Centro Universitário Cultura e Arte of the Universidade Estadual de Feira de Santana;
• The Municipality of Vitória da Conquista;
• Ponto de Cultura Mães Guerreiras da Luz and the Municipality of Juazeiro.
We are very pleased to have this special project selected by the Ministério da Cultura do Brasil for the Year of France in Brazil. We heartily thank Jean-Jacques Forte of the Alliance Française for his untiring efforts to make this residency possible.
The participating artists are:
• Dany Leriche – photography
• Jean-Marc Godes – photography
• Louis Pavageau – urban interventions and installations
• Étienne Yver – drawing and painting
• Sophie Preveyraud – painting and sculpture
In upcoming issues of the Jornal Sacatar, we will update you on the artists' activities.

First Trivia Question (This one is hard!):
With what country does France have the longest border?
The answer:
Brazil, with its border along French Guiana.
---
SELECTION 2009
The Instituto Sacatar hosts 15-20 artists each year, for periods that generally last two months. Given the number of applications we receive and the limited number of Fellowships we can offer, we hold an open selection process biennially. Our biennial selection is open to people in all creative fields, of all nationalities and of all ages.
This year, Sacatar received 503 applications from 62 countries, an increase of 7% over 2007. From among these artists we will award approximately 25 Fellowships through December 2011.
Twelve pre-screeners (among which were six former Fellows) reviewed the applicants over a two-month period, submitting 70 candidates to an interdisciplinary final selection committee. This committee met on June 13-14, 2009. While we do not release the names of the committee members, the final selection committee comprised five art professionals in a diversity of fields, who came from Brazil, Holland and the United States. This committee recommended 40 Semi-Finalists to be interviewed before the Fellowships are awarded.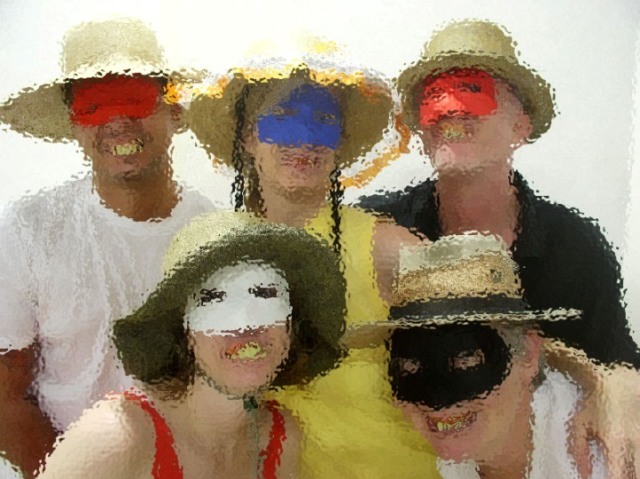 Our final selection committee and their beautiful teeth, © 2009, Taylor Van Horne
For years, our applicant pool came primarily from the United States, where artists are well-versed in the international art residency circuit. This year the percentage of native- born Americans in our applicant pool dropped to 40%. The percentage of Brazilian applicants increased substantially, to 9%. When we started in 2001, the concept of a artist residency program was new to the Brazilian creative community. Now many Brazilian artists have become aware of the special impact an artist residency can have on their professional development.
The forty Semi-Finalists live in nineteen countries and represent a wide diversity of disciplines. The youngest Semi-Finalist is 26; the oldest (of those who told us their ages) is 65. The average age of the selected artists is 39 years old. Once again, we regret that many highly-qualified artists had to be turned away.
In addition to our biennial selection process, we have special programs that are more restricted, some of which are announced below.
---
UNESCO/ASCHBERG BURSARY PROGRAMME TO THE INSTITUTO SACATAR
From October 26 to December 21, 2009, Sacatar will host three laureates of the UNESCO/Aschberg bursary programme, which promotes the development of emerging artists through international residency experiences. UNESCO/Aschberg bursary recipients to Sacatar receive airfare to Bahia, Brazil, and two months in residence, with a studio to work in, a bedroom with attached bath, meals and logistical support for their projects.
We will host the following artists in partnership with UNESCO:
• Aneli Munteanu, a visual artist from Romania
• Zahra Beigi, a visual artist from Iran
• Rae Howell, a musician from Australia
The UNESCO/Aschberg Bursary Program will be repeated in 2010. Artists may apply who are born and live in Africa, the Middle East, Asia, Eastern Europe, Russia, the former Soviet republics, Australia, New Zealand and/or the Pacific islands.
Applications for the 2010 UNESCO/Aschberg bursaries to the Instituto Sacatar must be received in Brazil by November 16, 2009.
We cannot receive applications electronically. We will post application instructions on our website in the coming weeks, so please visit our website
www.sacatar.org
.
The UNESCO/Aschberg Bursary Programme works with art residencies around the world, each providing slightly different conditions and with slightly different eligibility requirements by nationality and discipline. If you are not eligible to apply for the UNESCO/Aschberg bursary to the Instituto Sacatar, you can research other opportunities at
www.unesco.org/culture/aschberg
.
---
LOS ANGELES CULTURAL AFFAIRS – SACATAR FELLOWSHIP
We are very pleased to announce that Sacatar has established a partnership with the Cultural Exchange International Program of the Department of Cultural Affairs of the City of Los Angeles. All artists who live in Los Angeles County (not just the City) are eligible to apply for a Fellowship to the Instituto Sacatar through this pilot program. In addition to the usual perks listed above---airfare, studio, room, board and logistical support for projects ---each awarded artist will receive an additional two thousand dollars for his or her personal use.
Upon their return to Los Angeles, artists must publicly present the results of their residencies. L.A.-based artists must submit their applications directly to the Instituto Sacatar in Brazil, using the Department of Cultural Affairs application form. Two such Fellowships will be awarded between January 2010 and June 2011. For details, contact us at
info@sacatar.org
. We will be posting details regarding the application procedures, as well as the Cultural Affairs Application Form, on our website
www.sacatar.org
several months prior to the January 2010 meeting of the selection committee in Los Angeles.
Second Trivia Question:
What is the official sister city of Los Angeles in Brazil?
The answer:
Salvador, Bahia.
GOOD-BYE / HELLO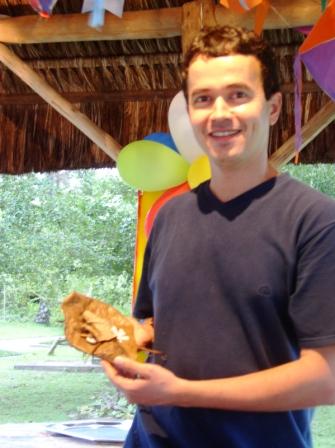 Luis Oliveira, © 2009, Augusto Albuquerque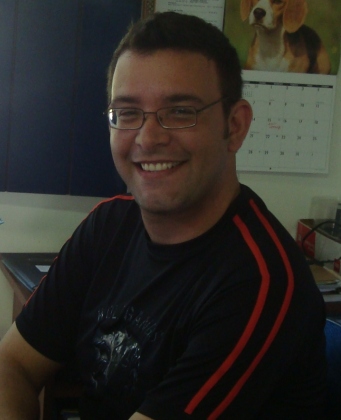 Alex Esquivel, © 2009, Augusto Albuquerque
Many of the former Fellows will remember Luis Oliveira, who worked as our communications manager for the last two years. Luis has decided to move to Canada. In his stead, we welcome Alex Esquivel. We are confident that Alex, with his background as an English teacher and as a student of journalism, will be a great addition to the Sacatar team.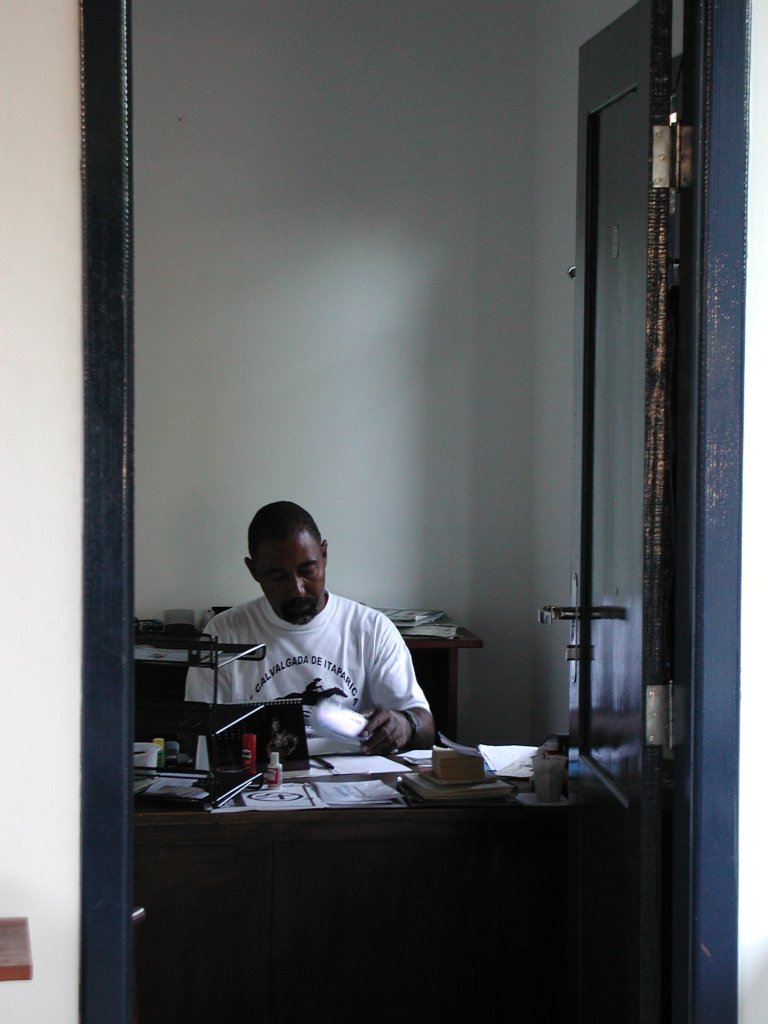 Janilton Lemos, © 2003, Mitch Loch
Janilton Lemos was a part of the Sacatar team from before the beginning. He was caretaker of the estate before it was purchased for the Sacatar residency program. Janilton is no longer working with us. We thank him for his invaluable support during our first eight years.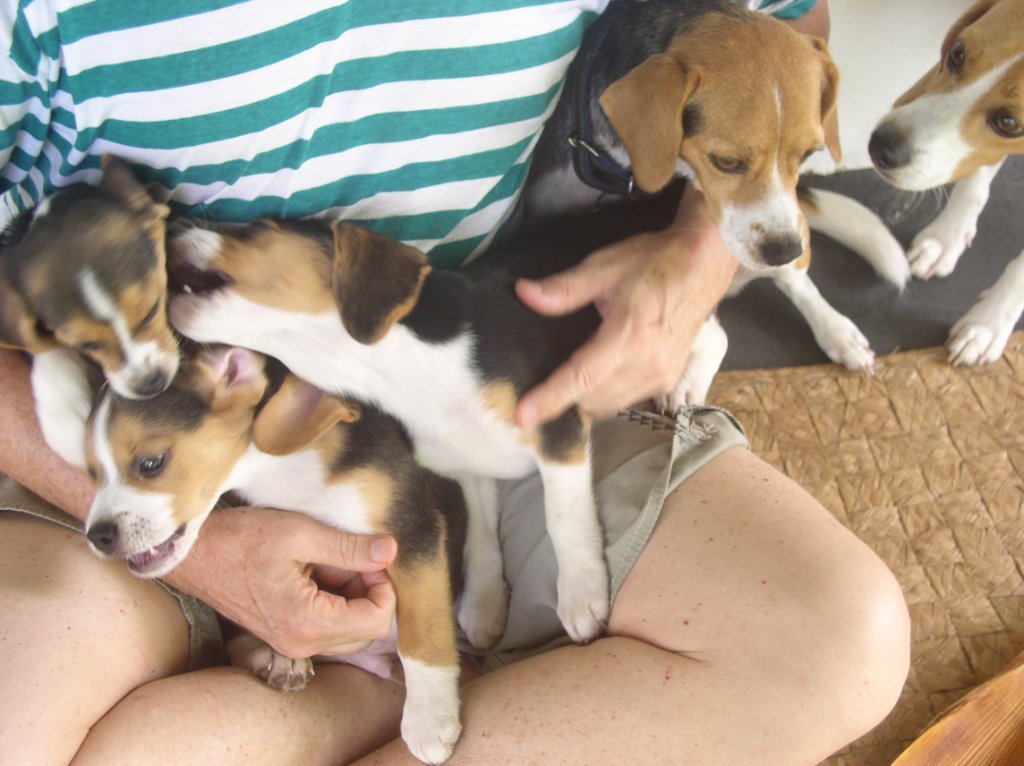 The family's last day together, © 2009, Mitch Loch
Last but not least, for those of you who have been avidly following the news of the three puppies born to the Sacatar beagles Jacó and Diana on April 27…
• The puppy Nana has moved down the street and now spends her weekends in a house opposite the Itaparica Library.
• Her sister Chelsea has moved to Mar Grande, twenty minutes from Sacatar but still on the island of Itaparica.
• Their little brother Browser has moved several hundred kilometers north to the city of Natal.
---
NEWS OF FORMER FELLOWS
Please excuse us, but with so much going on, we are only going to highlight a few upcoming events by our former Fellows. We love to receive news from you all, to hear what is going on in your lives post-Sacatar, so please stay in touch!
ANDREIA PINTO-CORREIA (Portugal>USA, 2006) – Andreia is a composition Fellow at Tanglewood, a annual music festival and advanced academic program associated with the Boston Symphony Orchestra.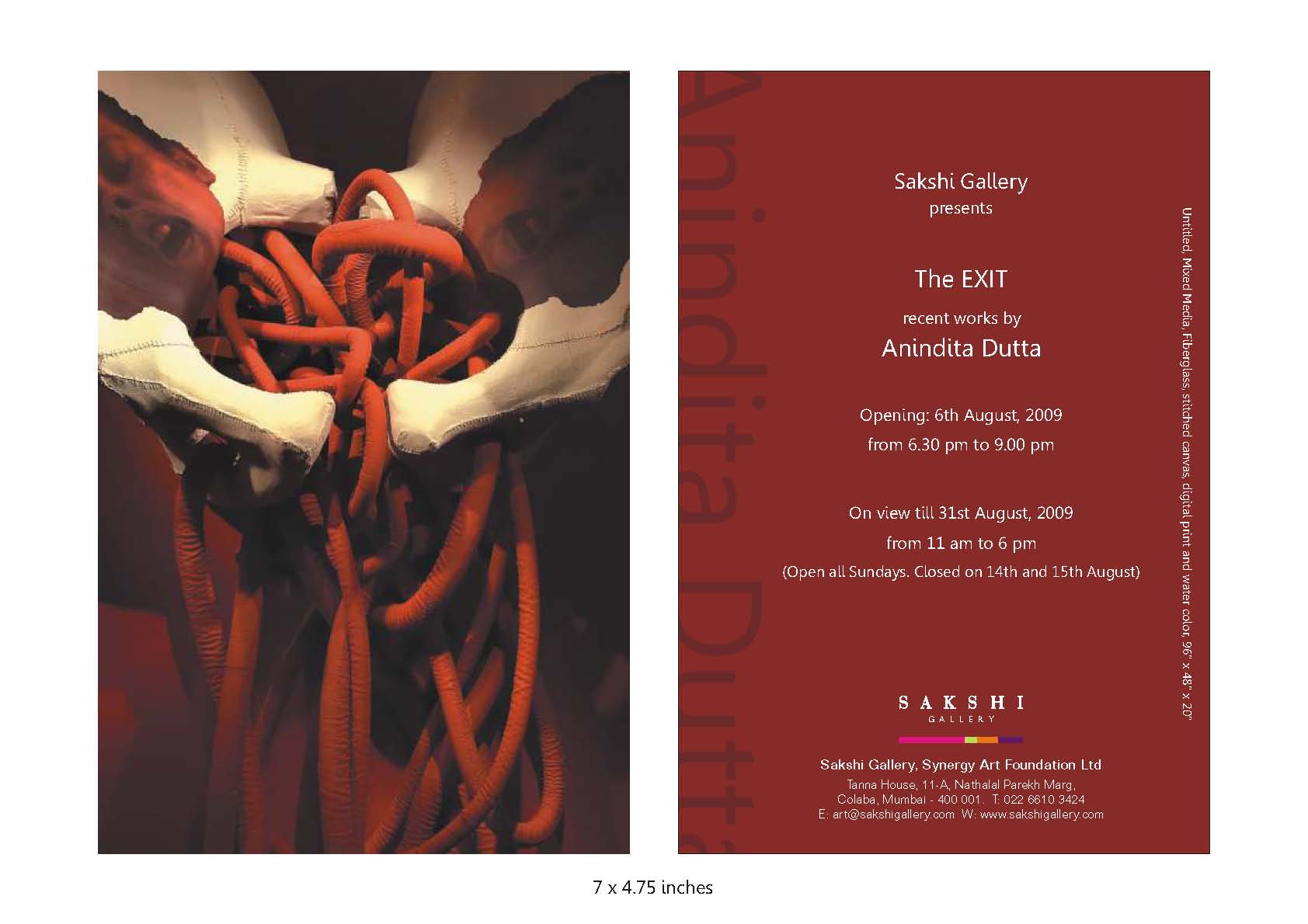 Invitation to "The Exit", © 2009, Anindita Dutta
ANINDITA DUTTA (India, 2006) – The artist has a solo exhibition, The Exit, opening on August 6 at the Sakshi Gallery in Mumbai, Índia. The exhibition runs through August 31.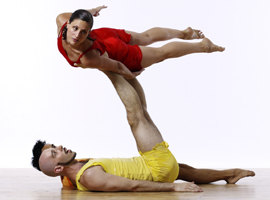 Daniel Gwirtzman, © 2009, Lois Greenfield
DANIEL GWIRTZMAN (USA, 2003) – Danny is the founder of the Daniel Gwirtzman Dance Company. In August he returns to "In The Studio," a series of intimate events at the Center Studio in New York City. The events happen every Wednesday evening at 7:00 and end with a question and answer session. It is interactive and fun. Also on August 28, Daniel will give a free performance at the Queens Museum of Art at six in the evening. He will be appearing at four dance festivals in September and October: the Dance Gallery Festival, the American Dance Guild, DanceNow and the New York Music Theater Festival.
DEREK BERMEL (USA, 2007-8) – Derek is beginning a three-year tenure as composer in residence with the Los Angeles Chamber Orchestra. There will be upcoming performances of his compositions in Los Angeles in December. He is also currently an artist in residence at the Institute for Advanced Study at Princeton University.
ERIK GÖNGRICH (Germany, 2007) – The artist has an exhibition, " Stadtskulptur geht uns alle an," at the Kunstverein Tiergarten | Galerie Nord in Berlin, from August 7 to September 12.
ERMAN (Cuba>USA, 2006) – Erman announces two exhibitions. From June 12 to October 17 an intimate, chronological selection of works from 2000 to the present will be on view at Ocean Opthalmology in North Miami Beach, Florida, USA. This alternative venue has hosted other Diaspora Vibe Gallery artists in the past. From September through December, CORTANDO, COCIENDO Y RECORDANDO will travel to the West Dade Regional Library, also in Florida. This is a survey / solo exhibition, curated by Rosie Gordon-Wallace.
HANNAH MORRIS (USA, 2008) – During her residency, she worked with a well-known Brazilian author of children's books, Rogério Andrade Barbosa. Rogério came from Rio de Janeiro to work intensively with Hannah during part of her stay at Sacatar. Rogério recorded and Hannah illustrated stories told to the two of them by Dona Bela and by other residents of the island of Itaparica. The book, Contos de Itaparica, will be published by Edições SM in Brazil.
INÊS RAPHAELIAN ( Brazil, 2003) – Inês has accepted a new position at the Museu da Cidade de São Paulo, where she is responsible for the Teatro Municipal Museu and the development of the Pavilhão de Culturas Brasileiras in Ibirapuera Park in São Paulo, Brazil.
JOAN SZYMKO (USA, 2009) – The artist has been awarded the coveted Raymond Brooks Memorial Commission for 2010 by the American Choral Directors Association.
SHIVANI MANGHNANI
(USA, 2008) --- During her residency in the tropical climate of Bahia, Shivani confessed to having a difficult time working on her novel set in New York. Instead she wrote some short stories with more tropical settings. You can read one of them on-line at the website of the Boston Review:
http://bostonreview.net/BR34.3/manghnani.php
The Final Trivia Question:
In commemoration of the Year of France in Brazil, where was this photo taken---in Bahia or in France?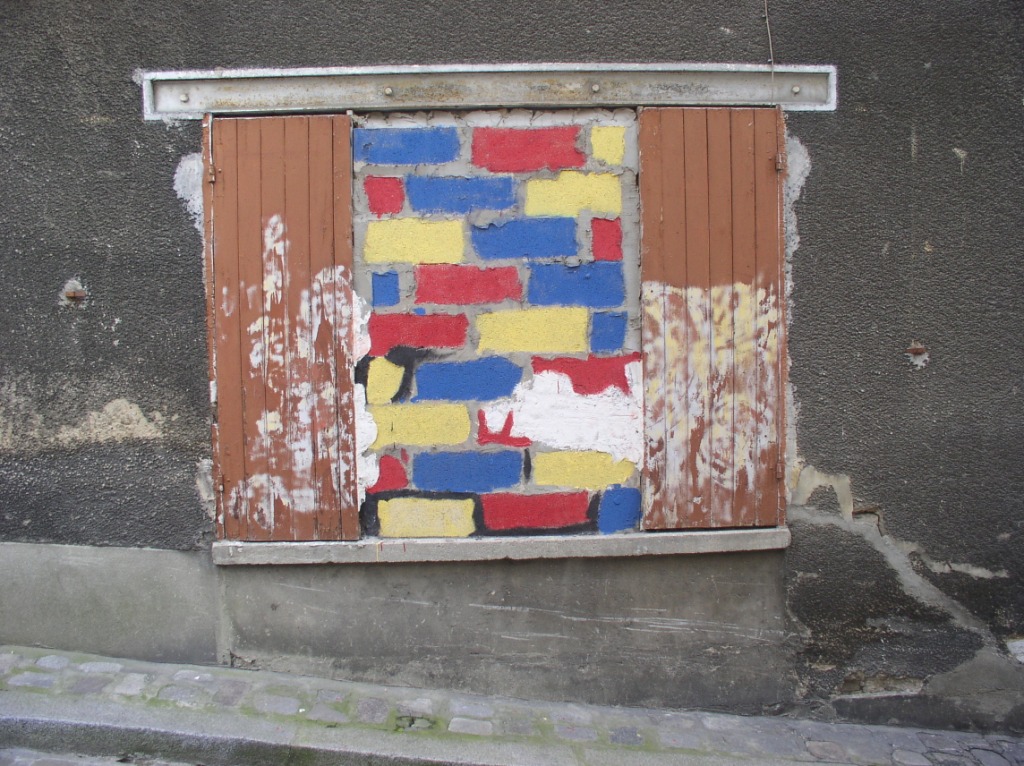 France or Bahia, © 2009, Mitch Loch
The answer:
Poissy, France.
---